I realize these are old news amongst fashion lovers, but I feel they deserve a place on every blog there is.
In all honesty, the Armadillo shoe is vile. And by saying vile, I mean exactly that-extremely unpleasant. I get scared and anxious just by looking them.
I do, however, give him credit for an out-of-space idea, and for having the nerve (who else if not him?) to put them out.
And another thing. The other day I was watching a video of a Dior haute couture S/S 10 show- it was spectacular- and I felt that the models are some what insecure of walking. It was strange, because they were no rookies, and still they gave the impression of walking on egg shells. The shoes didn't even look hard to handle (doesn't mean they weren't).
Soooo I was amazed how gracefully McQueen's models walked in Armadillos. They must be very well made!
Like it or not, these shoes have made it into history books. They're iconic.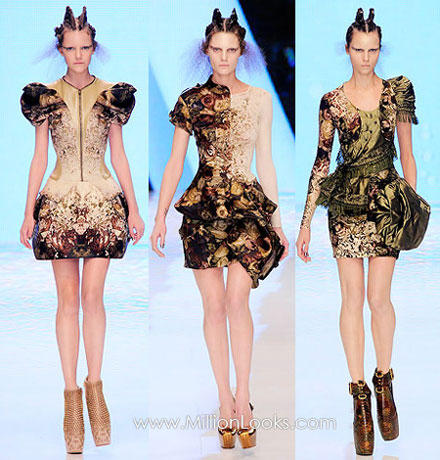 P.S. compared to Armadillos the blue ones look like jour every day shoes, no ? :)